Mercedes-Benz GLA
250 e AMG Keyless, Widescreen , *3,99% korko* *vaihto/rahoitus*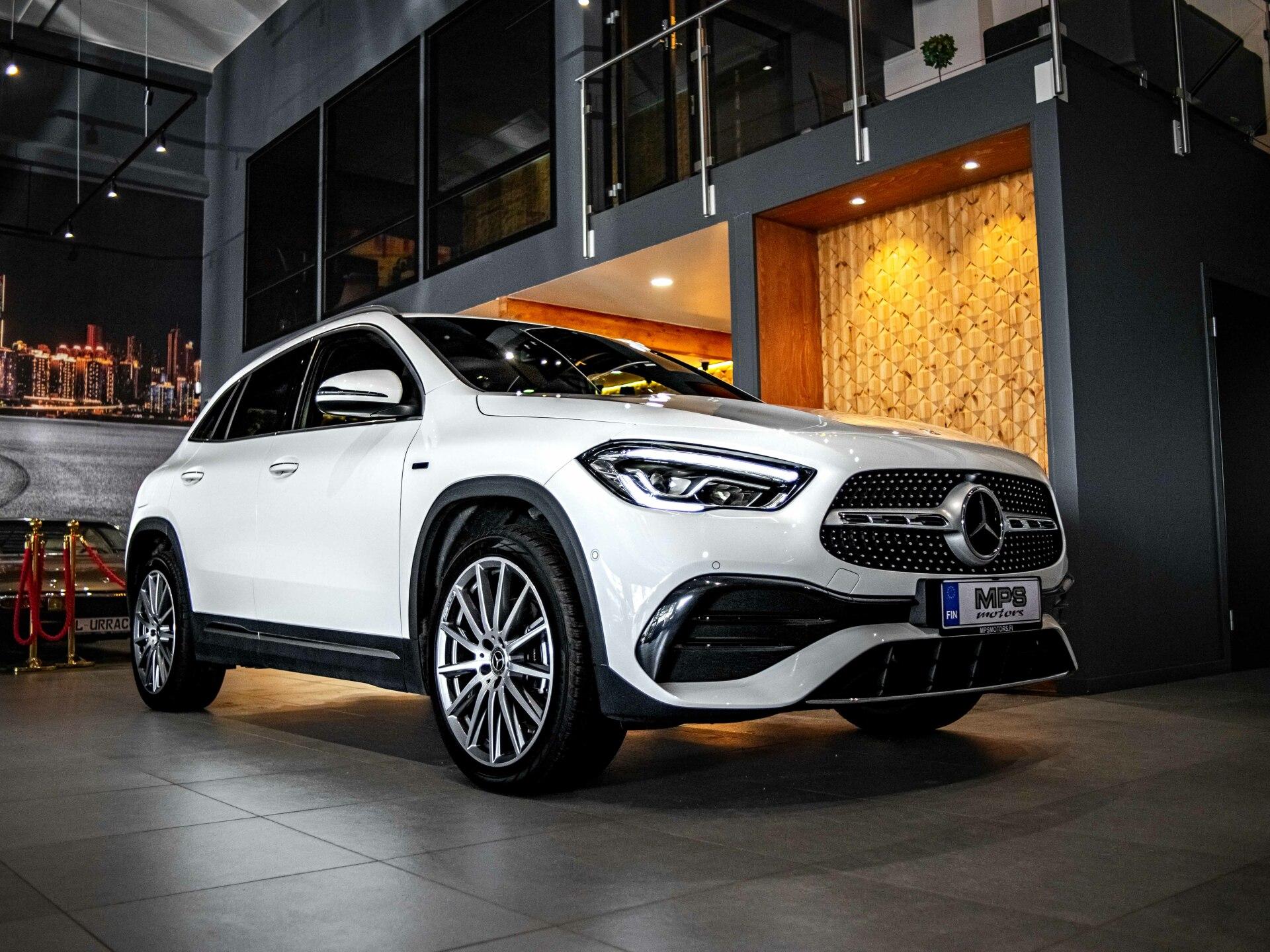 Sijainti:

Jyväskylä

Vuosimalli:

2021

Mittarilukema:

41000 km

Teho:

140 kW / 190 hp

Moottori:

1.3 l, Hybridi (bensiini/sähkö)

Vaihteisto:

Automaattinen

Vetotapa:

Etuveto
Varusteet
Tämänkin auton luovutus onnistuu sekä Jyväskylän että Tuusulan toimipisteeltä.
Uuden nihkeä plug-in hybrid AMG paketilla.
WLTP 61km.
Thermatic-ilmastointiautomatiikka
Widescreen näyttö
Navigointi
Keyless Go avaimeton kulku ja käynnistys
Distronic- adaptiivinen vakionopeudensäädin
LED-ajovalot
Pysäköintitutka edessä ja takana
Peruutuskamera
Midline Sound system
Dynamic select -katkaisin
8-vaihteinen kaksoiskytkin-automaattivaihteisto 8G-DCT
Kuljettajan polviturvatyyny
Aktiivinen jarruavustin
Tuulilasinpyyhkmiet sadetunnistimella
Monitoimiohjauspyörä nahkaverhoiltu
Aktiivinen kaista-avustin
Mercedes me-palvelu: Vehicle Monitoring
auton valvonta
Mercedes-Benz-hätäpuhelujärjestelmä
Nopeusrajoitusavustin
Touchpad monitoimisäätimen kanssa
Kommunikaatiomoduuli (4G) Mercedes me connect -palvelujen käyttöön
Mercedes me-palvelu: Vehicle Set-Up
auton asetukset
Sähkötoiminen takaluukku
Alla tarkka varustelistaus:
02J Invalid changeover of world manufacturer to Mercedes-Benz AG (ASF)
07B Operating instructions and service booklet-French
085 World manufacturer conversion to Mercedes-Benz AG
08U Mercedes-Benz Connect - Services for Vehicle Setup (HERMES)
09U Mercedes-Benz Connect - Vehicle Monitoring (HERMES)
0B2 Vehicle production location Rastatt
13U Mercedes-Benz Connect - EV functions
149U Polar white - Standard finish
1B3 Communication module ECE version
20U Keyless rental
218 Rear view camera
233 Adaptive cruise control Plus (DISTRONIC PLUS)
235 Active Parking Assist
23P Driving package
249 Automatic dimming inside rearview mirror and outside mirrors
255B Mb-Mobilo with DSB and GGD
266 DISTRONIC PLUS transverse support (DTR+Q)
270 GPS aerial
273 Exit warning assistant
286 Luggage nets to left and right driver seat backrests
287 Through-loading feature
294 Kneebag
299 PRE-SAFE®
2U1 Radiator shutter
2U8 Alternative refrigerant
2V0 Speed/load index 96W
310 Double cup holder
337B Instrument cluster/HU language - French
345 rain sensor
351 Ecall emergency call system
355 Preinstallation for retrofitting navigation system
362 HERMES communications module LTE
365 Hard drive navigation
367 Live Traffic capability
3U6 HU country set for ECE/ROW
426 Automatic dual-clutch transmission 8-speed
431 Steering wheel gearshift buttons/steering wheel shift paddles - Electroplated
446 Touchpad only
458 Instrument cluster display S
475 Tire pressure monitor (TPM)
485 Comfort suspension
500 Electrically folding exterior mirrors
502 Multi-year free map updates
513 Road sign recognition system
51B Rating country group EURO-NCAP
51U Headliner black fabric
531L France
537 Digital Radio standard DAB (Digi. Audio Broadc.)
543 Sun visor with additional function
546 Automatic speed control
548 Connect 20 Mid (NTG6)
581 Automatic climate control
5XXL Europe
632 Headlamps LED static right-side traffic
63B Vehicle socket XEV Combo 2/Type 2
650A Fabric/imitation leather/microfiber
651A Fabric/ imitation leather/ microfiber - Black/ anthracite
6P5 Sales control code for code 475 request
725 Roof rails in chrome look
73B Roller blind compartment closed
772 AMG styling - Front spoiler side skirts
79B Pre-installation of Digital Radio standard DAB
7B4 WIPPS countries WEU+COC
7U4 Seat model variant 4
801 YoM X0/1
80B Single-phase low AC charging function (3.2 kW-3.8 kW)
840 Glas dunkel getönt
853 Midline Sound system
859 Central display size M
871 Sensor system for trunk lid opening/closing
873 Seat heaters for driver and front passenger
877 Ambient lighting
889 KEYLESS-GO
890 Automatic rear-end door
8U6 Assistance system steering wheel control changeover
8U8 i-Size marking (Isofix successor)
927 Exhaust treatment Euro 6 technology
942 Load compartment/trunk package
950 AMG line
961 Exhaust system with OPF generation 2.0
968 Euro 6 technology COC document - without motor vehicle registration certificate part 2
98B Upper radiator shutters
998 Control code for conversion to WLTP with RDE
B10 Fuel tank packages for Euro-6D standard
B13 Loading sill protection - Chrome
B30 Charging cable Schuko CEE 7/7 (Type E/F) 4M/5M
B33 Charging cable 7-pin ICCA as per IEC 62196 16A 4M/5M
B51 TIREFIT
B53 External noise sound generator for hybrids and EV
B59 Drive program selection switch (Agility Select)
F247 Model series 247
FH Hatchback
FR3N (no designation available)
G121 (no designation available)
GA Automatic transmission
GH (no designation available)
H62 Trim elements - Plastic IMD carbon fiber look C6 (2B84)
HA Rear axle
JGJ Plant control code
K13 Control code for 25000 km service interval
K31 Noise regulations as per ECE R51-03
K32 Active Lane Change Assist
K33 Extended restart in stop-and-go traffic
K34 Route-based speed adaptation
L Left-hand drive
L5C Supersport steering wheel - leather deep-embossed
M14 Displacement 1.4 liter
M282 Inline 4-cylinder spark ignition engine M282
ME08 Hybrid drive 75 kW-84 kW (90 kW-V213) var. (plug-in)
O48 Software fresh-up 4
P17 KEYLESS-GO package
P44 Parking Package
P49 Mirror package
PXV Control code for Sales
PYA Control code for Sales
PYH Control code for Sales
PYN Control code for Sales
R01 Summer tyres
R7N Wheel size 20" all-round variant 1
RVV AMG multi-spoke wheels 20" "all-round"
U01 Rear seat belt status indicator
U10 Front passenger seat with weight sensor
U25 Illuminated door sill
U26 Floor mats - AMG
U28 Higher-power braking system
U35 12 V socket in load compartment
U54 Compound-link axle
U59 Seat comfort package
U60 Pedestrian protection - Active hood
U62 Exterior light and sight package
VL Left front axle half
VR Right front axle half
Vakiovarusteet
Hätäjarrutusavustin, Kevytmetallivanteet, Rengaspainevalvontajärjestelmä, Start-stop järjestelmä, ABS-jarrut, Ajonvakautusjärjestelmä, Ajotietokone, Audio-sisääntulo, Erikoisvanteet, Huoltokirja, Ilmastointi aut., Isofix-valmius, Keskusluk. kaukosäädöllä, Keskuslukitus, Käynnistyksenesto, Luistonestojärjestelmä, Matkapuhelinvarustus, Monitoimiohjauspyörä, Navigointijärjestelmä, Ohjaustehostin, Penkinlämmittimet, Pysäköintitutka tai -kamera, Sadetunnistin, Sähkökäyttöiset ikkunat, Sähköpeilit, Sähkösäät. istuimet, Sähkötoim. takaluukku, Turvatyynyt, Vakionopeudensäädin (Adaptiivinen), Hybridiauton plug-in latauspistoke, Äänentoistojärjestelmä, Vakionopeudensäädin: Mukautuva
Rahoituslaskuri
Rahoitettava summa: 45578 €.
Käsiraha tai vaihdokin arvo (€)
Viimeinen suurempi erä (€)
=
570

€/kk

Korko 6.95 %, luoton määrä 45379 €, KSL:n mukainen todellinen luottohinta 48823.126 €, todellinen vuosikorko 7.08 %, perustamismaksu 589 €, käsittelymaksu 17 €/kk.

Huomioithan, että laskurin antamat luvut ovat suuntaa-antavia. Pyydä myyjältäsi lopullinen rahoitustarjous. Edellyttää hyväksytyn luottopäätöksen.
VARUSTAMME AUTOT LAADUKKAILLA VARUSTEILLA TOIVEIDESI MUKAAN