Mercedes-Benz E 53 AMG
E 53 AMG 4MATIC Farmari, Burmester, Performance penkit, yms *Vaihto/Rahoitus*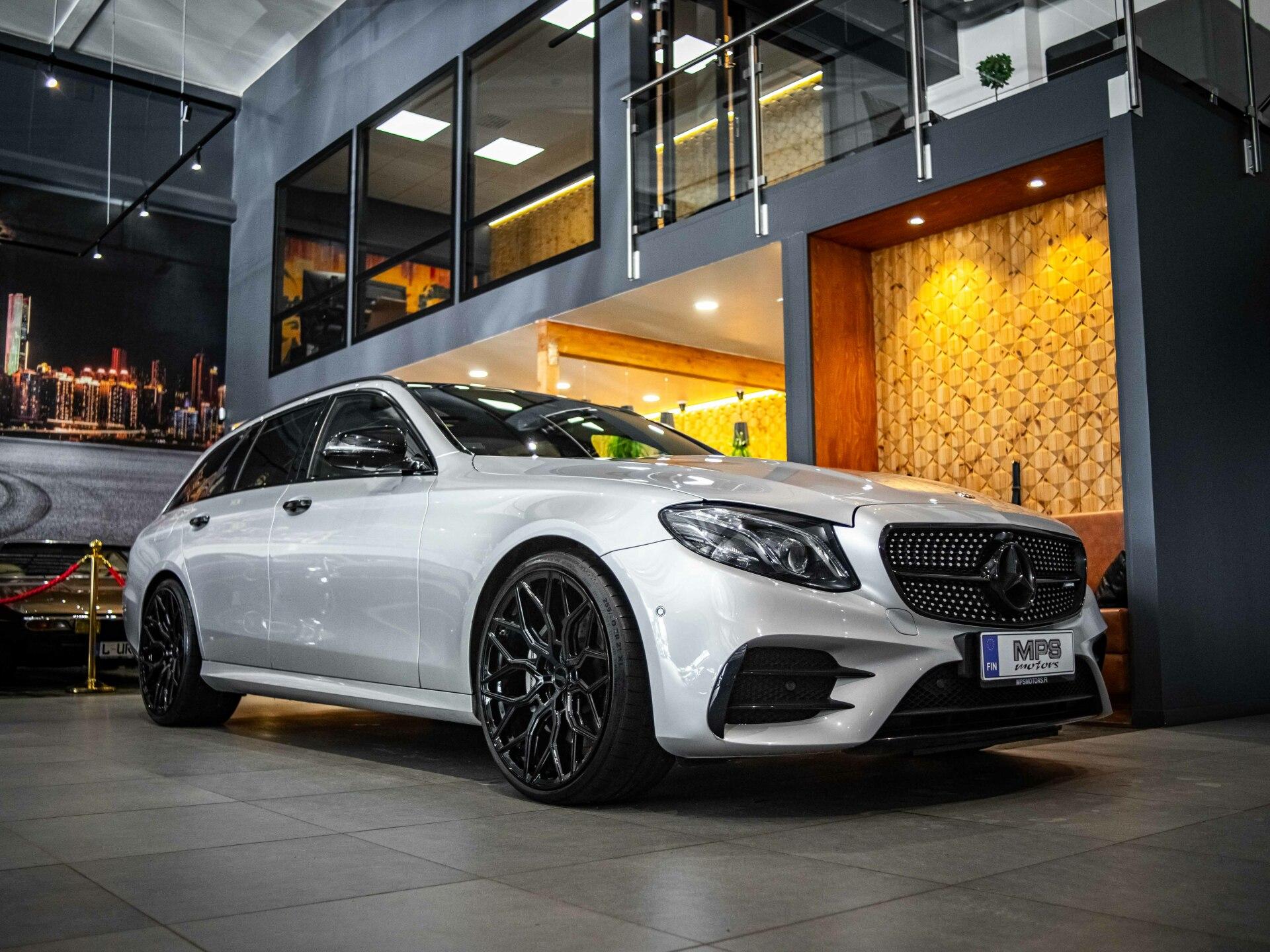 Sijainti:

Jyväskylä

Vuosimalli:

2019

Mittarilukema:

95000 km

Teho:

320 kW / 434 hp

Moottori:

3 l, Bensiini

Päästöt:

215 g/km

Vaihteisto:

Automaattinen

Vetotapa:

Neliveto
Varusteet
Tämänkin auton luovutus onnistuu sekä Jyväskylän että Tuusulan toimipisteeltä.
Todella hienokuntoinen ja huippuvarusteilla oleva E53 AMG Täydellisellä huoltohistorialla.
Huolto 1 28.08.2019 23644 Km
Huolto 2 02.03.2020 44512 Km
Huolto 3 18.02.2021 67690 Km
Huolto 4 24.11.2022 80516 Km
Performance penkit
Nahkaverhoilu
Sähkötoimiset etuistuimet muistipaikoilla
Widescreen cockpit 2 x 123 tuuman näytöt
Älypuhelimen integrointi
Burmester äänentoisto
Pysäköintikamera (360 astetta)
Pysäköintitutka
Lasikatto
HUD
Avaimeton kulku ja käynnistys
Automaattinen ilmastointi
LED-ajovalot
Tunnelmavalaistus
Kaistavahti
Aktiivinen jarrutusavustin
Sähkötoiminen takaluukku
2XRenkaat
2xAvain
Tarkempi varustelistaus:
01U Mercedes-Benz Connect - Services for navigation
02U Mercedes-Benz Connect - Service for office and communication
059 YoM X8/2
08U Mercedes-Benz Connect - Services for Vehicle Setup (HERMES)
09U Mercedes-Benz Connect - Vehicle Monitoring (HERMES)
10B Operating instructions and service booklet-Swedish
12U Mercedes-Benz Connect - Services for Mercedes me Concierge Service (HERMES)
14U Smartphone integration package
15U Pre-installation for MB-Link smartphone integration
16U Apple Carplay smartphone integration
17U Android Auto smartphone integration
1A2 (no designation available)
21A (no designation available)
228 Additional warm water heating
234 Blind Spot Monitoring
235 Active Parking Assist
246 Analogue clock
249 Automatic dimming inside rearview mirror and outside mirrors
255B Mb-Mobilo with DSB and GGD
258 Collision warning system with FCW-Stop active brake application
270 GPS aerial
274 Telephone antenna
275 Memory Package (driver's seat steering column and mirrors)
287 Through-loading feature
294 Kneebag
299 PRE-SAFE®
2A8 (no designation available)
2U3 Air filter with water protection
2U8 Alternative refrigerant
309 Cup holder
30P Stowage facility package
340B Language of instrument cluster/HU - Swedish
351 Ecall emergency call system
355K (no designation available)
362 HERMES communications module LTE
367 Live Traffic capability
3U1 Head unit for Europe/CIS states/Mongolia
413 Automatic panoramic sliding sunroof
421 9-speed automatic transmission
431 Steering wheel gearshift buttons/steering wheel shift paddles - Electroplated
448 Touchpad with rotary pushbutton
463 Front visual display (head-up display)
464 Instrument cluster display M
472 Gasoline particulate filter (OPF) without sensor system
475 Tire pressure monitor (TPM)
489 AIRMATIC DC / semi-active air suspension
4A7 (no designation available)
500 Electrically folding exterior mirrors
501 360° camera
502 Multi-year free map updates
513 Road sign recognition system
51U Headliner black fabric
52V Speed/load index 95Y XL + 97Y XL
531 COMAND APS NTG5/NTG5.5
53A (no designation available)
555 AMG-Performance Seat
569L Sweden
580 Air-conditioning system
5A1 (no designation available)
5XXL Europe
628 Automatic high beam control plus (IHC+)
642 Dynamic LED headlamps right-hand traffic
666 Product protection for shipment veh. without transport eyelets
670 Residual engine heat utilization system (REST)
6A7 (no designation available)
6P5 Sales control code for code 475 request
70B Safety vest - driver
720 Roof railing
737 Center console in black open-pore ash wood (2A70)
739 Trim elements - Aluminum
772 AMG styling - Front spoiler side skirts
775U Iridium silver - Metallic finish
79B Pre-installation of Digital Radio standard DAB
7A1 (no designation available)
809 YoM X8/1
810 Premium sound system
820A Leather/nappa/semi-aniline
821A Leather/nappa/semi-aniline - black/anthracite
824 A/C packages for cold countries
840 Glas dunkel getönt
871 Sensor system for trunk lid opening/closing
873 Seat heaters for driver and front passenger
875 Heated windscreen washer system
876 Interior lighting package
889 KEYLESS-GO
890 Automatic rear-end door
891 Premium ambiance illumination
897 Front wireless telephone charging
8U6 Assistance system steering wheel control changeover
8U7 Rear passenger compartment seat belt with belt force limiter and Softst.
8U8 i-Size marking (Isofix successor)
915 Fuel tank with increased capacity volume 2
927 Exhaust treatment Euro 6 technology
968 Euro 6 technology COC document - without motor vehicle registration certificate part 2
989 Identification label under windshield
998 Control code for conversion to WLTP with RDE
99B Active adjustment damping "Normally Open"
AA6 Uprated power variant 1
B01 48V technology
B51 TIREFIT
B59 Drive program selection switch (Agility Select)
F213 Model series 213
FS Crewbus
G041 (no designation available)
GA Automatic transmission
GA7 Automatic transmission
HA Rear axle
J81 Plant control code
K11 Adaptive brake light flashing
K13 Control code for 25000 km service interval
K27 Software control for unpowered in position "D"
K31 Noise regulations as per ECE R51-03
L Left-hand drive
L6K Nappa leather/microfiber AMG steering wheel
LS2 Body-in-white load stage 2
M005 Vehicles with 4MATIC/all-wheel drive
M016 Uprated engine
M256 Inline 6-cylinder spark-ignition engine M256
M30 Displacement 3.0 liter
P17 KEYLESS-GO package
P29 Interior AMG Line / interior AMG sport package
P31 Exterior AMG Line / exterior AMG sport package
P35 Light Package
P47 Parking Package High
P49 Mirror package
P60 AMG Exterior Night package
R01 Summer tyres
RTZ AMG double-spoke wheels 20" "mixed tires"
U01 Rear seat belt status indicator
U09 Leather-clad instrument panel and beltline (embossed imit.)
U10 Front passenger seat with weight sensor
U22 Lumbar support adjustment
U25 Illuminated door sill
U26 Floor mats - AMG
U35 12 V socket in load compartment
U60 Pedestrian protection - Active hood
U82 USB charge socket in rear passenger compartment
VL Left front axle half
VR Right front axle half
Y05 Seat belt in red
Vakiovarusteet
Adaptiiviset ajovalot, Ajonvakautusjärjestelmä, Ajotietokone, Audio-liitäntä, Avaimeton käynnistys, Bluetooth, Head-Up-näyttö, Huoltokirja: Sähköinen, Hätäjarrutusavustin, Ilmastointi: Automaattinen, Isofix-valmius, Kaadettavat takaistuimet, Kaarrevalot, Kahdet renkaat, Kaistavahti, Katon avausmekanismi: Sähköinen, Kattoluukku: Panoraama, Katveavustin, Keskuslukitus: Avaimella, Keskuslukitus: Avaimeton, Luistonestojärjestelmä, LED-ajovalot, Lasikatto, Käynnistyksenesto, Kevytmetallivanteet, Keskuslukitus: Kaukosäätöinen, Lukkiutumattomat jarrut (ABS), Monitoimiohjauspyörä, Nahkaverhoilu, Peruutuskamera: 360-asteen kamera, Penkinlämmittimet, Ohjaustehostin, Nopeusrajoitus -tunnistin, Navigointijärjestelmä, Pysäköintiavustin, Pysäköintitutka, Radio, Rengaspainevalvonta -järjestelmä, Sadetunnistin, Sähkötoiminen takaluukku, Sähkösäätöiset istuimet: Muistilla, Sähköpeilit, Turbo, Turvatyynyt, Törmäysvaroitin, Urheiluistuimet, Sähkökäyttöiset ikkunat, Varashälytin, Älypuhelimen integrointi, Vakionopeudensäädin: Perinteinen
Rahoituslaskuri
Rahoitettava summa: 76688 €.
Käsiraha tai vaihdokin arvo (€)
Viimeinen suurempi erä (€)
=
570

€/kk

Korko 6.95 %, luoton määrä 76489 €, KSL:n mukainen todellinen luottohinta 82135.714 €, todellinen vuosikorko 7.08 %, perustamismaksu 589 €, käsittelymaksu 17 €/kk.

Huomioithan, että laskurin antamat luvut ovat suuntaa-antavia. Pyydä myyjältäsi lopullinen rahoitustarjous. Edellyttää hyväksytyn luottopäätöksen.
VARUSTAMME AUTOT LAADUKKAILLA VARUSTEILLA TOIVEIDESI MUKAAN