Mercedes-Benz V
250d 4-matic Facelift *2.99% korko* sport-paketti, webasto, p-kamera yms. *vaihto / rahoitus*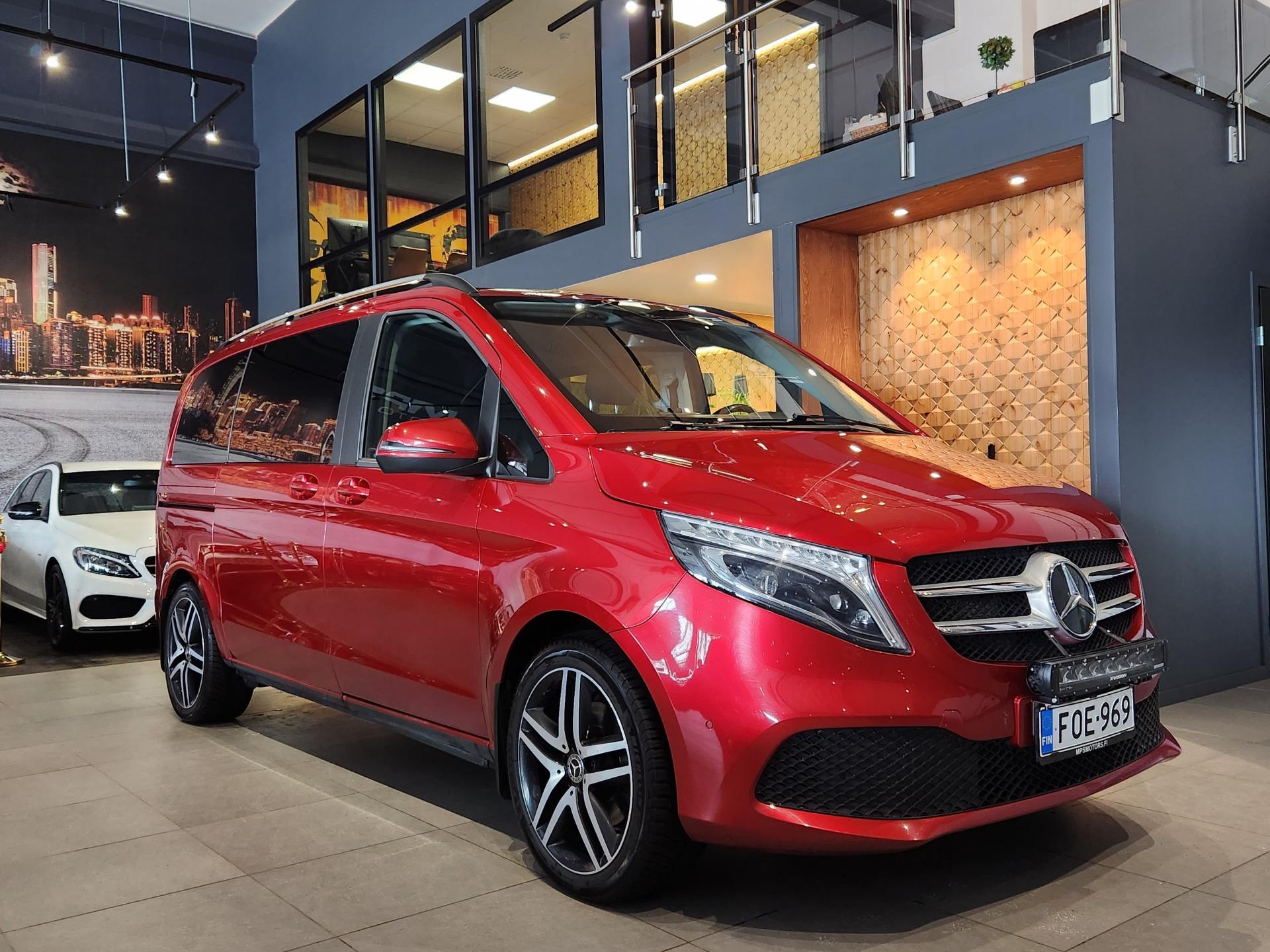 Sijainti:

Jyväskylä

Vuosimalli:

2019

Mittarilukema:

110000 km

Teho:

140 kW / 190 hp

Moottori:

2 l, Diesel

Päästöt:

219 g/km

Vaihteisto:

Automaattinen

Vetotapa:

Neliveto
Varusteet
Tämänkin auton luovutus onnistuu sekä Jyväskylän että Tuusulan toimipisteeltä.
Todella upea ja kattavasti varusteltu 6-paikkainen henkilöauto V-Mercedes. Auto on uusinta Facelift-mallia.
Tähän autoon korko alkaen 2.99%
Varusteina mm:
Hyacinth red -metalliväri
ILS Dynaamiset Led-ajovalot
Sport -ulkopuolen paketti
AgilityControl-alusta
Kuolleen kulman avustin
Aktiivinen Kaistavahti
Alkuperäinen webasto
MercedesMe sovellus
Comfort -Kuskinistuin
Luxury -Apukuskin istuin
Garmin Navigointi
Sähköllä koria vasten taittuvat sivupeilit
Peruutuskamera
Pysäköintitutkat edessä ja takana
Monitoimiratti
Mäkilähtöavustin
Penkinlämmittimet
Automaattinen ilmastointi
Vakionopeudensäädin
Alkuperäinen vetokoukku
Bluetooth audio ja puhelut
2xRenkaat alumiinivantein
Yms.
Tarkempi varustelistaus:
3334 Paint hyacinth red metallic MB 3334
A1N Rear axle shaft make Neapco
BA3 Active Brake Assist System
BS1 Brake callipers with "Mercedes-Benz" lettering
CA1 AGILITY CONTROL suspension
CL1 Height and rake adjustable steering wheel
CL3 leather steering wheel
CL4 Multifunction steering wheel with trip computer
CM2 Bumpers and detachable parts painted in vehicle colour
CU1 Aerodynamic underbody panelling
D14 Anodised roof rails
E07 Hill-Start Assist
E34 Buffer starter battery
E70 Lower control panel switch position
EA1 Audio 20 CD with touchpad
ED4 AGM battery 12 V/95 Ah
EG9 Garmin® MAP PILOT
EL9 2-way loudspeakers front and rear
ES2 Trunk/load compartment 12 V socket
ES3 12 V power outlets for seat rows in rear right and left
EV5 Pre-installation for Garmin® MAP PILOT
EY2 Live Traffic Information
EY5 Mercedes-Benz emergency call system
EY6 Breakdown management
EZ5 Active Parking Assist with reversing camera
EZ7 Active Parking Assist
F2Z Wood trim pinstripe effect facelift
F65 Exterior mirrors automatically folding
F66 Lockable glove compartment
F69 Heated exterior mirror electrically adjustable with integrated indicator lamp
F72 Automatically dimming outside and inside rearview mirrors
FC1 Chrome-effect electronic key
FG0 Centre console with sliding cover
FLK Luxury multipurpose vehicle
FP3 MIRROR PACKAGE
FP5 Sports Package - exterior
FR8 Rear view camera
FS5 Illuminated vanity mirrors for sun visors
FZ8 Comfort opening and closing with IR remote control
G43 9G-TRONIC
H00 Hot/cool air duct to passenger compartment
H12 Auxiliary hot-water heater
H15 Seat heater for front passenger
H16 Seat heater for driver
H20 Tinted glass
HH4 THERMOTRONIC automatic climate control
HI1 Climate zone 1 (cold/comfort)
HX1 Refrigerant R-1234yf
HZ0 Electric auxiliary heater
HZ7 TEMPMATIC semi-automatic air conditioning in rear
IB6 Model series C447 Vito/V-Class
IG4 Standard
IH1 Headunit europe/CIS-states/Monoglei
IK0 Complete vehicle
IK3 Luxury multipurpose vehicle
IL1 Domestic (Germany)
IL4 EU / EFTA region
IL5 Left-hand drive
IL6 Metallic paint
IN1 Wheelbase 3200 mm short overhang
J55 Seat belt warning system for front passenger seat
JA1 Warning lamp for wiper fluid level
JA7 Blind Spot Assist
JF1 rain sensor
JH3 Communication module (LTE) for digital services
JK5 Instrument cluster with color display
JP1 PRE-SAFE®
JP2 Driving Assistance package
JW5 Lane Keeping Assist
JW8 Attention Assist
JX2 Maintenance interval 40000 km
KB5 Tank large
KP6 SCR Generation 3 exhaust gas cleaning
L No code designations currently available
LA2 Headlamp Assist
LB9 Illuminated exits
LC3 Illumination in rear grab handle
LC4 Comfort overhead control panel
LC5 Ambient lighting in exterior mirrors
LC7 Illumination for front footwell
LC8 Ambient lighting liftgate
LE1 Adaptive brake lights
LG2 LED Intelligent Light System
LG4 LED tail brake and indicator lamps
LX5 Europe
M60 Alternator 14 V / 250 A
MG9 Alternator management
MJ2 ECO display
MJ8 ECO start/stop function
MS1 Cruise control
MT0 Emissions category Euro 6d-TEMP M/N1 GR.II
MU6 OM 654 DE 20 LA 140 kW (190 hp) 3800 rpm
MX0 BlueEFFICIENCY package
Q50 Trailer coupling with removable ball-type head
QA4 Trailer load 2500 kg
R22 Wheel size group 2
RF1 Make of tyres Continental (10)
RK1 Tyres 245/45 R19
RL3 48.3 cm (19 inch) light-alloy wheels with 5 double-spoke design painted black highly polished at front
RM4 Comfort tyres
RM7 Summer tyres
RX5 Wheel make Maxion Wheels
RY2 Tyre pressure monitoring at FA and RA wireless
S37 Outside armrests indiv. seats 2nd rear seat row
SA6 Airbag co-driver
SB1 Comfort driver seat
SB2 Luxury co-drivers seat
SH1 Thorax/pelvis side-impact airbag driver
SH2 Thorax/pelvis side-impact airbag front passenger
SH9 Windowbags for driver and front passenger
SZ7 Stowage net driver seat backrest
SZ8 Stowage net front passenger backrest
T14 Active retainer for load compartment sliding door
T19 Sliding door left
T70 Childproof locks on doors in passenger compartment
T74 Handle for entrance
U73 Armrests for seats in passenger compartment
UR1 Seat rail system with quick-release attachment system
US6 Individual seat 1st rear row left
US7 Individual seat 1st rear row right
US8 Individual seat 2nd rear row left
US9 Individual seat 2nd rear row right
V33 Carpet in the rear
V36 Panelling under roof
V44 Carpet in interior at front
V4Y Fabric Santos black
VD5 Roof liner crystal grey
VH1 Grab handles in rear
W16 Window front left fixed in sidewall/sliding door
W17 Window front right fixed in sidew./sliding door
W32 Rear passenger compartment electric pop-out windows
W65 Tailgate
W70 Tinted windows in rear passenger compartment dark glass
W78 Window in liftgate/rear-end door with wiper + washer syst.
X30 Registration certificate Part II
XA8 Weight variant 3.100 kg
XC9 COC papers
XI9 Modification year 9 - I
XM0 Facelift
XM8 Development control code
XO7 Mercedes-Benz Mobilo with DSB and GGD
XU1 Plates / booklets german
XW5 Omission of rear-end marking
XW9 Steuercode Umstellung WLTP
XZ1 Model generation 1
Y10 First aid kit
Y44 Warning triangle
Z42 Registration as passenger car
ZC6 Sales code 1
ZG2 4MATIC all-wheel drive
ZH7 V-Class EDITION
Myös vaihto / rahoitusmahdollisuus; kysy tarjous!
Vakiovarusteet
Adaptiiviset ajovalot, Ajotietokone, Bluetooth, Huoltokirja: Sähköinen, Isofix-valmius, Kahdet renkaat, Kaistavahti, Kevytmetallivanteet, LED-ajovalot, Luistonestojärjestelmä, Matkapuhelinvarustus, Monitoimiohjauspyörä, Navigointijärjestelmä, Penkinlämmittimet, Ohjaustehostin, Peruutuskamera: Kamera takana, Polttoaine- / akkukäyttöinen lisälämmitin, Vetokoukku, Turbo, Sähkökäyttöiset ikkunat
Rahoituslaskuri
Rahoitettava summa: 67578 €.
Käsiraha tai vaihdokin arvo (€)
Viimeinen suurempi erä (€)
=
570

€/kk

Korko 6.95 %, luoton määrä 67379 €, KSL:n mukainen todellinen luottohinta 72380.726 €, todellinen vuosikorko 7.08 %, perustamismaksu 589 €, käsittelymaksu 17 €/kk.

Huomioithan, että laskurin antamat luvut ovat suuntaa-antavia. Pyydä myyjältäsi lopullinen rahoitustarjous. Edellyttää hyväksytyn luottopäätöksen.
VARUSTAMME AUTOT LAADUKKAILLA VARUSTEILLA TOIVEIDESI MUKAAN