Mercedes-Benz V
220 CDI keskipitkä A2 A *3,99% korko* Vetokoukku, ILS, Webasto *vaihto/rahoitus*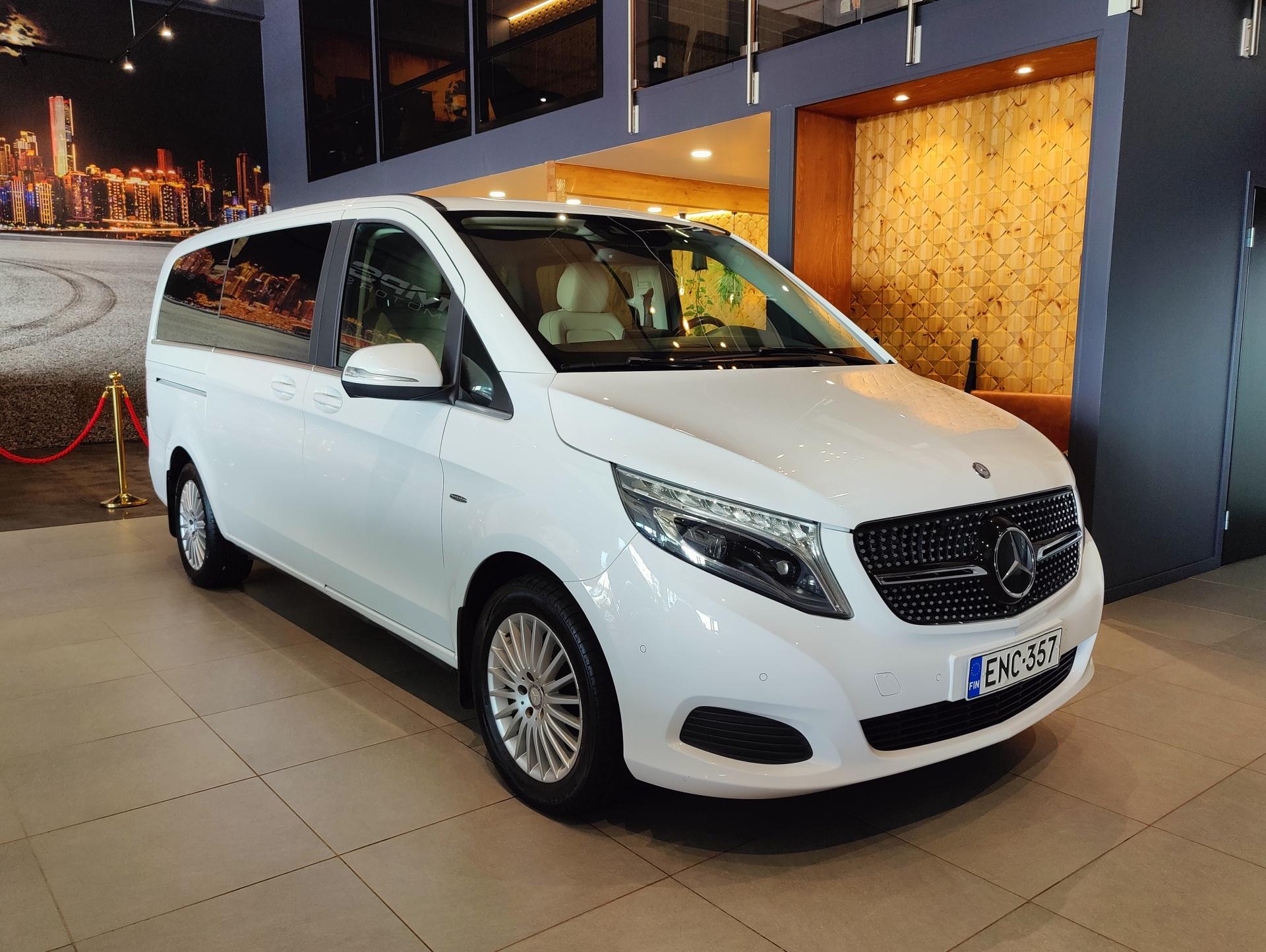 Vuosimalli:

2015

Mittarilukema:

429000 km

Teho:

120 kW / 163 hp

Moottori:

2.1 l, Diesel

Päästöt:

149 g/km

Vaihteisto:

Automaattinen

Vetotapa:

Takaveto
Varusteet
Hyvin varusteltu ja siististi pidetty Suomi-auto.
Suomi-auto
Webasto kaukosäädöllä
Adaptiivinen vakionopeudensäädin
Avantgarde paketti
Täysnahkasisusta Lugano
Adaptiivinen vakionopeudensäädin
ILS Led-ajovalot
Vetokoukku
Sähköinen takaluukku
Penkinlämmittimet
Peruutuskamera
Automaattisesti himmentyvät ulko ja sisäpeilit
Automaatti-ilmastointi
2xRenkaat vantein
2xAvain
Alla tarkka varustelistaus:
Code Description
213K ALTERNATOR 14 V / 200 A
427 AUTOMATIC TRANSMISSION 7-SPEED
529L FINLAND
582 AIR CONDITIONER IN THE REAR
625K No code designation available
800 CHANGE OF MODEL YEAR THE LAST FIGURE SHOWING THE NEW MODEL YEAR
9147 PAINT COLOR ARCTIC WHITE MB 9147
930K LOW-EMISSION VEHICLE EURO 5B+ GR. III
A11 ALTERNATIVE INJECTION
B03 DIRECT START / ECO START/STOP FUNCTION
C447 CHASSIS 447
C74 LETTERING ENTRANCE MERCEDES-BENZ ILLUMINATED
CA1 AGILITY CONTROL SUSPENSION
CL1 STEERING WHEEL ADJUSTABLE IN INCLINATION & HEIGHT
CL3 LEATHER STEERING WHEEL
CL4 MULTIFUNCTION STEERING WHEEL WITH TRIP COMPUTER
CM2 BUMPER AND DETACHABLE PARTS PAINTED VEHICLE COLOR
E07 HILL-START ASSIST
E34 BUFFER BATTERY FOR STARTING PROCESS
E57 ELECTRICS FOR TRAILER-COUPLING SOCKET
EA1 AUDIO 20 CD
ED4 ABSORBENT GLASS MAT BATTERY 12 V 92 AH
EL9 2-WAY SPEAKER AT FRONT AND REAR
ES2 12 V SOCKET TRUNK/CARGO AREA
ES3 12V SOCKETS FOR SEAT ROWS REAR RIGHT AND LEFT
ET4 ACTIVE DISTANCE ASSIST DISTRONIC
EZ5 PARKING PACKAGE
EZ7 ACTIVE PARK ASSIST
F447 MODEL SERIES 447
F65 OUTSIDE MIRROR AUTOMATIC FOLD-IN
F66 LOCKABLE GLOVE COMPARTMENT
F69 ELECT.ADJ.& HEAT.OUTSIDE MIRR. W/INTEG. TURN SIGN.
F72 AUTOMAT.DIMMING OUTSIDE AND INSIDE REARVIEW MIRROR
FA8 AGILITY SELECT SWITCH
FC1 ELECTRONIC KEY IN CHROME LOOK
FG0 CENTER CONSOLE WITH ROLLER BLIND
FH8 TRIM PIECES WOOD LOOK ASH DARK BROWN
FLK LUXURY COMBI
FP3 MIRRORS PACKAGE
FR8 REAR-VIEW CAMERA
FS5 ILLUMINATED MIRRORS FOR SUN VISORS
FZ8 CONVENIENCE OPENING/CLOSING W. INFRARED REM.CONTRL
G42 7G-TRONIC PLUS
H00 HOT/COLD AIR DUCT TO PASSENGER COMP.
H12 HOT WATER ADDITIONAL HEATER
H15 SEAT HEATER FOR FRONT PASSENGER
H16 SEAT HEATER FOR DRIVER
H20 HEAT-ABSORBING GLASS ALL ROUND
HH9 SEMI-AUTOMATICALLY CONTROLLED TEMPMATIC A/C
HI1 CLIMATE ZONE 1 (COLD/COMFORT)
HY1 RADIO REMOTE CONTROL FOR AUXILIARY WATER HEATER
HZ0 ELECTRIC HEATER BOOSTER
HZ7 SEMI-AUTOM. REGULATED A/C TEMPMATIC IN REAR
IG5 BASIC
IH1 EUROPE/CIS COUNTRIES/MONGOLIA HEAD UNIT
IK3 LUXURY MULTIPURPOSE VEHICLE
IL2 EXPORT CODE
IL4 EU/EFTA REGION
IN2 WHEEL BASE 3200 MM LONG OVERHANG
J55 SEAT BELT WARNING SYSTEM FOR FRONT PASSENGER SEAT
JA1 INDICATOR LAMP FOR WIPER FLUID LEVEL
JF1 RAIN SENSOR
JK5 INSTRUMENT CLUSTER WITH COLOR DISPLAY
JW8 ATTENTION ASSIST
JX2 MAINTENANCE INTERVAL 40000 KM
KB5 MAIN TANK 70 L
L LEFT-HAND STEERING
LA2 HEADLAMP ASSIST
LB9 EXIT LAMPS
LC1 AMBIANCE ILLUMINATION
LC4 COMFORT OVERHEAD CONTROL PANEL
LC5 AMBIENT ILLUMINATION IN OUTSIDE MIRRORS
LC6 LIGHTING IN GRAB HANDLE AT REAR W/ READING SPOTLT.
LC7 ILLUMINATION FOR FOOTWELL AT FRONT
LC8 LIFTGATE AMBIENT ILLUMINATION
LE1 ADAPTIVE BRAKE LIGHTS
LG2 LED INTELLIGENT LIGHT SYSTEM
LG4 TAIL- BRAKE AND TURN SIGNAL LIGHTS IN LED TECH.
LX5 EUROPE
M40 ALTERNATOR 14 V / 200 A
MA4
MG3 ENGINE OM651 DE22LA 120KW (163HP) 3800RPM
MG9 ALTERNATOR MANAGEMENT
MJ8 ECO START/STOP FUNCTION
MX0 BLUEEFFICIENCY PACKAGE
RG7 TYRES 225/55 R17
RH6 TIRE PRODUCER HANKOOK
RL8 LIGHT-ALLOY WHEELS 7JX 17
RM7 SUMMER TIRES
RY2 TIRE PRESSURE MONITORING AT FA + RA WIRELESS
SA6 CO-DRIVER'S AIR BAG
SB1 DRIVER SEAT COMFORT
SB2 PASSENGER SEAT COMFORT
SH1 DRIVER THORAX/PELVIS SIDEBAG
SH2 FRONT PASSENGER THORAX/PELVIS SIDEBAG
SH9 WINDOWBAGS FOR DRIVER AND FRONT PASSENGER
T14 ACTIVE SLIDING DOOR LOCK
T19 SLIDING DOOR LEFT
T70 CHILD SAFETY LOCK ON DOORS IN PASS. COMP.
T74 GRAB HANDLE FOR ENTRANCE
U73 ARMRESTS FOR SEATING IN PASSENGER COMPARTMENT
UR1 SEAT RAIL SYSTEM WITH QUICK COUPLING
US5 3-SEAT BENCH COMF. 2ND ROW W. FOLDING OUTER SEAT
US6 SINGLE SEAT 1. ROW LEFT
US7 SINGLE SEAT 1. ROW RIGHT
V33 CARPET IN REAR
V36 HEADLINER
V44 CARPET IN FRONT VEHICLE INTERIOR
VD6 PORCELAIN INNER HEADLINER
VH1 GRAB HANDLES IN REAR
VQ1 AVANTGARDE
VX9 LEATHER LUGANO SILK BEIGE
W16 LEFT FRONT WINDOW FIXED IN SIDE WALL/SLIDING DOOR
W17 RIGHT FRONT WINDOWFIXED IN SIDE WALL/SLIDING DOOR
W29 REAR FIXED WINDOW
W64 SEPARATELY OPENING REAR WINDOW
W68 EASY-PACK LIFTGATE
W70 COLOR GLAZING IN REAR BLACK GLASS
X47 PLATES / PRINTED MATERIALS FINNISH
XA6 WEIGHT VARIANT 3050 KG
XC9 COC PAPERS
XO7 MERCEDES-BENZ MOBILO WITH DSB AND RUST-TH.WARRANTY
XZ0 MODEL GENERATION 0
YG4 LOAD COMPARTMENT PARTITION
Z42 APPROVAL AS PASSENGER CAR
ZC6 SALES CODE 1
Vakiovarusteet
Ajonvakautusjärjestelmä, Ilmastointi: Automaattinen, Sadetunnistin, Sähkökäyttöiset ikkunat, Monitoimiohjauspyörä, Bluetooth, Sivutuuliavustin, 7-vaihteinen automaattivaihteisto, AGILITY SELECT valitsimella, ESP 9i-ajovakauden hallinta, Tempmatic-ilmastointi automaattisella lämpötilan säädöllä, Dieselpartikkelisuodatin, Mukavuusistuimet edessä, ist. kaltevuuden/korkeuden säätö, Laturi 14V/200A, huoltovapaa akku 12V/95Ah, Etuistuinten lämmitys, Kyynärnojat etuistuinten sisäpuolella, Takaluukku lämmitettävällä ikkunalla, pesin ja pyyhin, Vakionopeuden säädin nopeudenrajoittimella (Tempomat), Lämpösäteilyä vaimentavat lasit, Sivu- ja ikkunaturvatyynykuljettajalle ja etumatkustajalle, Turvatyyny ja turvavyönkiristin kuljettajalle ja etumatkustajalle, Lisäjarruvalo ja adaptiiviset jarruvalot, Sähköiset etulasinnostimet ja tuuletusikkunat takana, Ohjauspyörän korkeuden ja etäisyyden säätö, Agility Control, mukautuva iskunvaimennus, vahvistettu jousitus ja kallistuksenvakaajat, Monitoimiohjauspyörä, mittaristossa monitoimimatriisivärinäyttö, Radio Audio 20CD, Bluetooth®, touchpad, neljä kaiutinta, ikkuna-antenni
Rahoituslaskuri
Rahoitettava summa: 30588 €.
Käsiraha tai vaihdokin arvo (€)
Viimeinen suurempi erä (€)
=
570

€/kk

Korko 6.95 %, luoton määrä 30389 €, KSL:n mukainen todellinen luottohinta 32770.7632 €, todellinen vuosikorko 7.08 %, perustamismaksu 489 €, käsittelymaksu 16 €/kk.

Huomioithan, että laskurin antamat luvut ovat suuntaa-antavia. Pyydä myyjältäsi lopullinen rahoitustarjous. Edellyttää hyväksytyn luottopäätöksen.
VARUSTAMME AUTOT LAADUKKAILLA VARUSTEILLA TOIVEIDESI MUKAAN